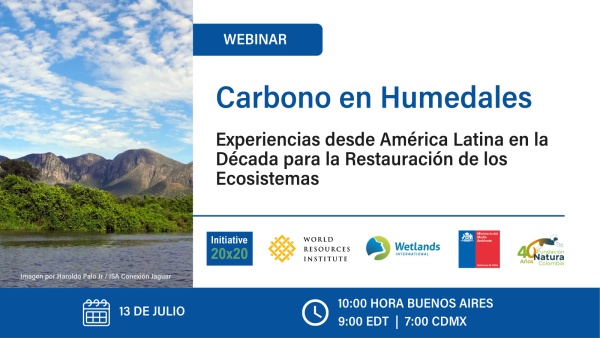 Carbon in Wetlands: Experiences from Latin America in the UN Decade on Ecosystem Restoration
Wetlands play an important role in regulating the global climate by sequestering significant amounts of carbon. However, when these are degraded, drained or burned for production, they become carbon source, releasing centuries of stored CO2 into the atmosphere. Preserving, sustainably managing, and restoring wetlands is critical to ensuring this essential benefit.
Join for a knowledge exchange on carbon in wetlands in different countries of Latin America and the Caribbean.
Speakers:
René Zamora, Initiative 20x20 Coordinator, World Resources Institute 
Gaston Fulquet, Corredor Azul Program Coordinator, Wetlands International LAC
Román Baigún, High Andes Wetlands Program Coordinator, Wetlands International LAC
Claudia Andramunio, Fundación Natura 
Gustavo Segura, Project Manager, Fundación Natura
Jimena Ibarra, Ministry of Environment, Chile
Sarai Rodríguez, Climate and Ecosystem Coordinator, WRI México