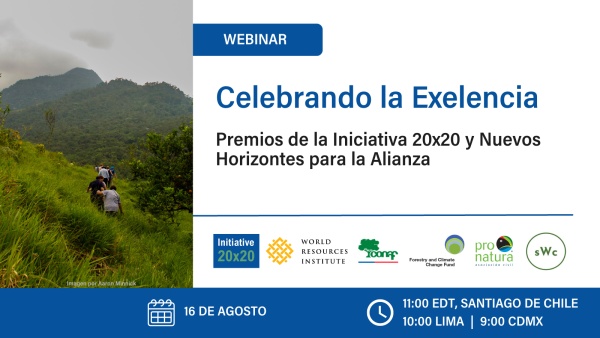 Celebrating Excellence: The Initiative 20x20 Awards and New Horizons for the Partnership
August 16, 2023
11:00 AM - 12:30 PM EDT
Protecting and restoring 50 million of hectares across Latin America and the Caribbean is no easy task, and that is why Initiative 20x20 has rallied over 100 partners to achieve this goal by 2030. The 20x20 Steering Committee recognizes three partners for their outstanding impact each year: a national government policy, a portfolio, and an innovative project on the ground. In a follow up to the February 2023 Joint Annual Meeting, the Initiative will honor these partners in an awards ceremony.
Our work does not stop here: we are using this momentum to continue building a path forward for the Initiative. René Zamora Cristales, Coordinator of Initiative 20x20, will present the beginnings of a new strategy for the partnership, and partners from The Shared Wood Company will introduce a new project in Peru's Sierra del Divisor National Park.
Initiative 20x20 invites you to celebrate our partners' progress and get a glimpse into the future of the network.
This event will be held in Spanish with translation in English and Portuguese. A preliminary agenda is available here.