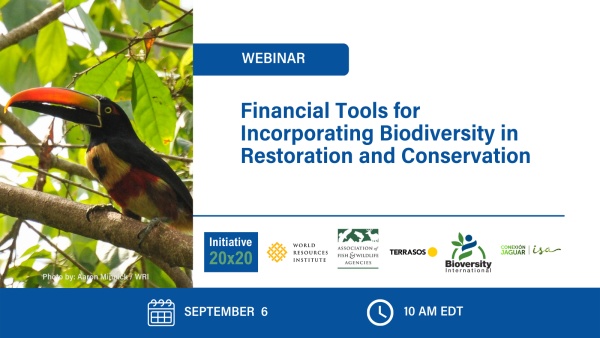 Financial Tools for Incorporating Biodiversity in Restoration and Conservation
From carbon sequestration to clean water, several climate benefits can emerge when we protect and restore our landscapes. While carbon markets and water bonds have allowed us to capture some of the monetary value from these important ecosystem services, it has been much harder to structure financial instruments that do the same for biodiversity.
Join Initiative 20x20's Biodiversity Task Force to hear examples of emerging tools that have the potential to bring forward financial benefits from biodiversity. Learn from speakers on habitat banking and biodiversity offsets in Colombia, Payments for Agrobiodiversity Conservation Services (PACS) and their impact in Latin America, and the Jaguar Corridor in Colombia, the world's largest biological corridor for a single species.
Featuring:
Deb Hahn, International Relations Director, Association of Fish & Wildlife Agencies
Mariana Sarmiento, CEO, Terrasos
Adam Drucker, Principal (Ecological) Economist, Bioversity International-CIAT (CGIAR)
Maria Adelaida Correa, Director of Sustainability, ISA
Walter Vergara, Senior Fellow and Director, Initiative 20x20, World Resources Institute
This webinar will be in English with live interpretation in Spanish and Portuguese. A preliminary agenda is available here.