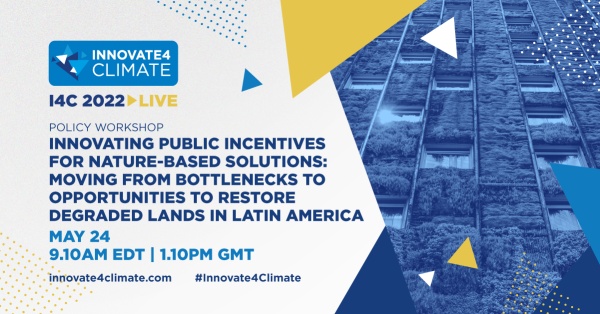 Innovating Public Incentives for Nature-based Solutions: Moving from Bottlenecks to Opportunities and blended finance to Restore Degraded Lands in Latin America
Register for Innovate4Climate here
The Restoration Policy Accelerator (PA) is a peer-to-peer, innovation program for career government officials and policymakers looking to improve the implementation of existing public incentives or design new policy instruments to promote landscape restoration as a Nature-based Solution. Drawing on two years of experience leading the PA program in Latin America, this session at Innovate4Climate will focus on how innovative solutions around bottlenecks in incentive programs are being addressed and how they can unlock the flow of public financial resources to implementers.
Speakers will address the following questions:
How are governments improving accessibility of payment for ecosystem services to marginalized groups?
How could carbon taxes accelerate or impede land restoration in forest and agricultural landscapes?
How can we achieve a balance between agricultural and environmental incentives to produce, protect, conserve and restore?
The panel will include four world-leading experts and mentors working on private investment and policy instruments for land restoration.