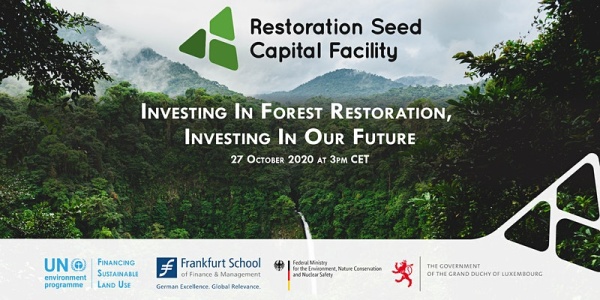 Investing in Forest Restoration, Investing in Our Future
27 October at 3pm CET
Large scale public and especially private investment is needed to restore degraded land, protect forests and enhance productivity to generate income and jobs for rural communities. At present, however, growing demand for food and materials leads to ever increasing demand for land, resulting in rapid deforestation, land degradation and habitat loss.
Reversing these trends by restoring degraded landscapes, protecting forests, and making degraded land productive again is therefore urgent to relieve the pressure on remaining tropical forests and enable countries to meet their goals and commitments including the Bonn Challenge, post 2020 Biodiversity framework, Paris Climate Agreement, and the Sustainable Development Goals in general.
At present, there are few private investment vehicles dedicated to sustainable land use activities that contribute to the restoration and protection of forests. There are a number of reasons for this, such as the long lead times to raise capital for these types of funds due to lack of familiarity with investors, long timeframes to generate positive returns and the need to demonstrate a strong pipeline. The time and resources needed to identify and develop promising projects for investment also represent a bottleneck that slows down private investment in forest landscape restoration.
As the world prepares for the UN Decade on Ecosystem Restoration 2021-2030, the United Nations Environment Programme (UNEP) is launching the Restoration Seed Capital Facility (RSCF) in collaboration with the Frankfurt School of Finance and Management. The key objectives of this novel facility are to stimulate more private fund managers and investment advisors to set up new funds that focus on forest landscape restoration, build strong project pipelines, and make sure that more of these projects reach financial close.
Please join us for the launch of this initiative on 27 October at 3pm CET. You will hear firsthand about the Restoration Seed Capital Facility:
How the facility will support fund managers to raise new funds and develop their project pipelines in developing countries
What support the facility provides to fund managers and investment managers
What the conditions are, and how you can apply