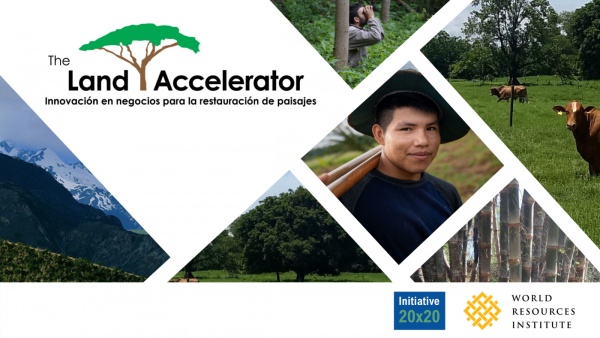 Land Accelerator Latin America Demo Days
This event will be held in Spanish and English, with simultaneous translation
Entrepreneurs throughout Latin America are looking to restore land, 20% of which has suffered from decades of degradation, in order to build sustainable futures for themselves and their communities. The opportunity to create benefit from restoring land in Latin America is large; every one hectare restored can bring $1,140 in economic value.
World Resources Institute and Asesorandes are proud to introduce the first cohort of the Land Accelerator Latin America. Over the course of two days, 15 innovative entrepreneurs whose businesses restore land will pitch to an (online) room of investors. Register today to join them!
Restoring land is good business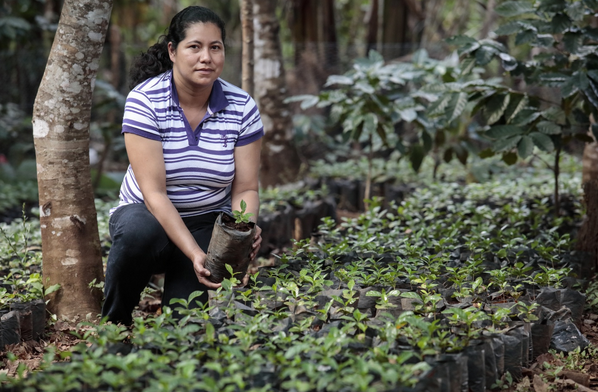 Through the past four months of training and mentorship, the Land Accelerator has brought together a geographically diverse group of exciting entrepreneurs who aim to revitalize farms and forests through agroforestry, reforestation, grassland restoration, low-carbon agriculture, and silvopasture.
The program connects these companies with a team of dedicated mentors, technical expertise, and investors to scale up their work and help countries meet their Initiative 20x20 commitments to protect and restore more than 50 million hectares of land in Latin America and the Caribbean by 2030.
Join us on April 20 and 21 to learn more about these entrepreneurs, their vision for a greener Latin America, and what they need to grow their impact.
The Companies:
Brazil's Adapta Group spreads agroforestry and regenerative farming techniques with the help of their app and a network of medium and large food and beverage companies.

Peru's Andean Pastoral Livelihood Initiative revitalizes unique Andean grasslands by connecting Indigenous cooperatives with the sustainable clothing industry.

Ecuador's Bellavista Cloud Forest Lodge brings together three hotels and local community groups to conserve wildlife and restore hundreds of hectares of cloud forests.

Peru's Forestbambu transforms bamboo oil into sustainable soaps, cosmetics, and beer by working with local farmers.

Costa Rica's HEVEA is growing 150,000 natural rubber trees on over 300 hectares of degraded pasture, creating a long-term source of income for local farmers.

Peru's Inversiones Agroforestales Regenerativas grows 100% traceable, ethical, and natural ingredients for the cosmetics industry – along with 64,000 trees – on its farm.

Ecuador's Kiwa has sold $4.5 million in potato, cassava, Andean carrot, and beet chips. Now it's working with community farmers to introduce organic and restorative farming techniques across its supply chain.

Mexico's Nature Lab World is generating carbon credits by growing 32,000 native trees and bamboo for the market, seeking to expand its plantation from 80 to 600 hectares.

Nicaragua's Nicaforest works with local landowners to revitalize damaged pasture and grow 91,000 FSC-certified cacao, teak, and native trees across 550 hectares.

Mexico's Prontal harnesses the power of 25,000 native, dye-producing palo de tinto trees to transform abandoned pasture into sustainable commercial plantations.

Guatemala's Rancho 4 Diamantes is a tree-filled sustainable cattle ranch that is growing the country's first ethically-raised beef.

Chile's Relicto restores and conserves areas with high environmental value. Established in 2017, it has preserved around 200 hectares of land each year.

Colombia's Salus Mundi creates organic solutions for farmers, municipalities, and companies on over 600 hectares that heal soil poisoned by oil, pests, and decades of abuse.

Argentina's Seamos Bosques is helping forest owners tap into the global voluntary carbon market by planning restoration projects and procuring, planting, and monitoring 70,000 trees.

Mexico's Te'etik produces designer furniture and home goods from certified, ethically-sourced timber grown across 3,500 hectares of forest.    
The Good Energies Foundation and the Grand Duchy of Luxembourg fund the program, which is co-implemented by Asesorandes and Fair Connection. The Forest Stewardship Council and Reforestamos Mexico are organizing partners.