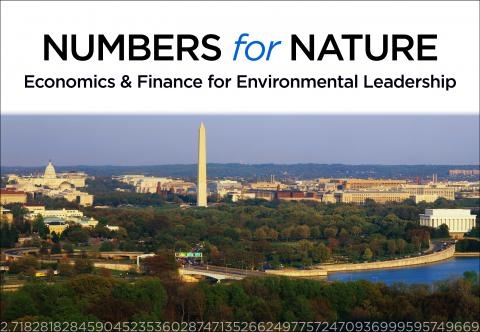 NUMBERS for NATURE: Economics & Finance for Environmental Leadership
Washington, DC, United States of America
TRANSFORM YOUR WORK AND CREATE BIGGER IMPACT
Initiative 20x20 partner Conservation Strategy Fund is offering a special one-week version annual international training course from July 13-17, 2020 in Washington D.C. Its courses are regarded as the premier training events in applied economics for environmental professionals, and participants experience a transformational shift in how they view environmental issues. Course graduates use what they have learned to make a tangible difference on the ground for both nature and people.
GAIN PRACTICAL AND APPLICABLE KNOWLEDGE & SKILLS
During the course, participants will learn key economic and finance concepts and tools that can be immediately applied in their everyday work to solve real-world environmental problems. Topics include economic fundamentals, natural resource economics, incentives and behavior, environmental policy, economic analysis tools, and finance solutions. The course will provide a solid theoretical foundation combined with tools, exercises, experimental games, and case studies.
EXPERIENCE WORLD-CLASS TEACHING
Sessions will be taught by experts in environmental economics and conservation finance with extensive field experience and an understanding of real-world conservation challenges. Instructors are drawn from CSF staff as well as leading academic and international institutions such as the University of Wisconsin-Madison, University of Hawai'i and Conservation Finance Alliance.
JOIN A GLOBAL NETWORK OF ENVIRONMENTAL LEADERS
Course graduates will join a network of more than 3,000 CSF alumni in 40 countries. This course is for professionals at the forefront of global environmental challenges and past participants have come from government, NGOs/CSOs, academia, the private sector, and multilateral institutions. Previous training in economics is not required. Applicants must be proficient in spoken and written English.
REGISTRATION AND PAYMENT
Enrollment is limited to 25 participants. To register, fill out the online registration form and send payment by wire transfer or check. Payment details will be provided upon receipt of your completed registration form. Tuition for the 5-day course is $2000 USD. Final payment deadline is May 1, 2020. Tuition includes instruction, materials, breakfast, and lunch. Participants are responsible for their own lodging, travel to and from the course, and other meals.