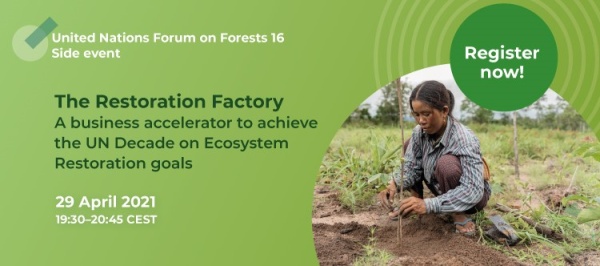 The Restoration Factory: a business accelerator to achieve the UN Decade on Ecosystem Restoration goals
April 29th, 2021 1:30 PM to 2:45 PM
Join UNEP and FAO online for a side event introducing a new e-learning programme that supports ecosystem restoration business models at the 16th session of the UN Forum on Forests on Thursday, 29 April 2021, 19:30–20:45 CEST.
The urgent need to restore damaged ecosystems worldwide has led the UN to designate the years 2021-2030 as the UN Decade on Ecosystem Restoration. Successfully achieving global restoration goals will require the mobilization of large-scale investments, including through viable restoration-focused business proposals.
The Restoration Factory is an e-learning programme developed by UNEP, FAO and IUCN that will support entrepreneurs in the development of enticing business models for restoration.
Attend this side event to learn more and hear about the latest developments and plans for the official launch of the UN Decade.