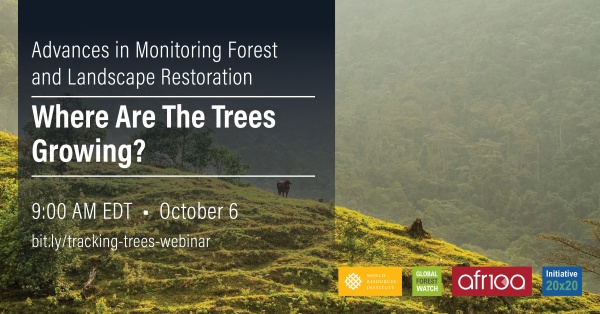 Where Are The Trees Growing? Advances in Monitoring Restoration
October 6, 2020 9:00 AM to 10:15 AM EDT
Join the conversation: #GenerationRestoration
Join WRI for a presentation detailing the latest advances on tracking tree growth and monitoring forest and landscape restoration.
Thanks to Global Forest Watch, monitoring deforestation with satellites has never been easier. But seeing where trees are growing - and measuring the water, soil, and yield benefits that they bring - is challenging. Now, after years of research, WRI and its partners in governments, companies, and communities have paired the latest advances in AI and remote sensing with local expertise and preferences to make tracking progress toward government and company commitments easier and more accurate than ever.
This webinar is designed for governments, companies, project developers, and community leaders who want to learn what tools they can use to track the progress of their work. Monitoring experts from WRI's Global Forest Watch and Restoration teams will highlight the key tools and techniques that practitioners, especially members of regional alliances AFR100 and Initiative 20x20, can use to start monitoring. A 20-minute Q&A period will close the event.
To learn more about the latest advances, read this article.
Speakers:
- Lina Pohl Representative in Mexico, FAO and Former Minister of Environment, El Salvador
- Crystal Davis, Director, Global Forest Watch, WRI
- Katie Reytar, Senior Research Associate, Global Restoration Initiative, WRI
- Dow Martin, Manager, Global Restoration Initiative, WRI
- Rene Zamora-Cristales, Senior Associate, Global Restoration Initiative, WRI
- Bernadette Arakwiye, Associate, Global Restoration Initiative, WRI
- John Brandt, Data Science Associate, Global Restoration Initiative, WRI
- Fred Stolle, Deputy Director, Forests Program, WRI
- Additional Speakers (TBD)
Share on social media and tag @restoreforward