Nature-Based Solutions in Latin America and the Caribbean: Support From the Inter-American Development Bank
October 2021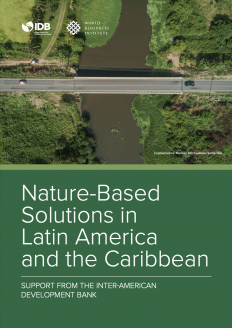 Nature-based solutions are uniquely positioned to deliver benefits across multiple sectors and can serve as tools to both mitigate and adapt to climate change. Because of their ability to efficiently generate high-value services and co-benefits when combined with traditional gray infrastructure investments, NBS can play a critical role in maximizing the impact of capital invested in the region's infrastructure. Integrating NBS and traditional infrastructure can improve overall cost-effectiveness, resilience, and performance of infrastructure service delivery.
NBS present an opportunity for the IDB to advance the region's progress in achieving the SDGs and NDCs in a way that prioritizes social inclusion and environmental sustainability. As governments have limited resources to invest in infrastructure and increasing challenges resulting from climate change and ecosystem degradation, NBS offer cost-effective and resilient strategies to achieve their development priorities. By forging creative partnerships and building confidence in NBS through flagship projects and initiatives, the IDB can play a key role in developing and scaling NBS throughout the region.
The IDB 2020 Mainstreaming Action Plan for Environmental and Social Sustainability (2021–25) provides the formal operational guidance necessary to mainstream NBS within the IDB's portfolio (IDB 2020c). Notably, the Mainstreaming Action Plan includes cross-cutting action plans related to climate action, disaster risk management, and natural capital, all of which include NBS considerations. This issue brief provides a baseline assessment of the IDB's investment in NBS from which these plans can make progress.